Map4D is a digital mapping platform for high-tech agricultural development in Ben Tre province. Serving the management and updating of agricultural system information. From there, it is possible to manage and monitor the origin and supply chain of better quality products.
According to Decision No. 17/QD-UBQGCDS dated 4/4/2023 on the National Committee's Operational Plan on Digital Transformation, Prime Minister Pham Minh Chinh assigned Ben Tre Province the task of pioneering the organization of digital transformation. implementing and directing relevant agencies and units to deploy digital data platforms on agriculture and traceability platforms; organize preliminary review and evaluation before September 2023. (Chinhphu.vn).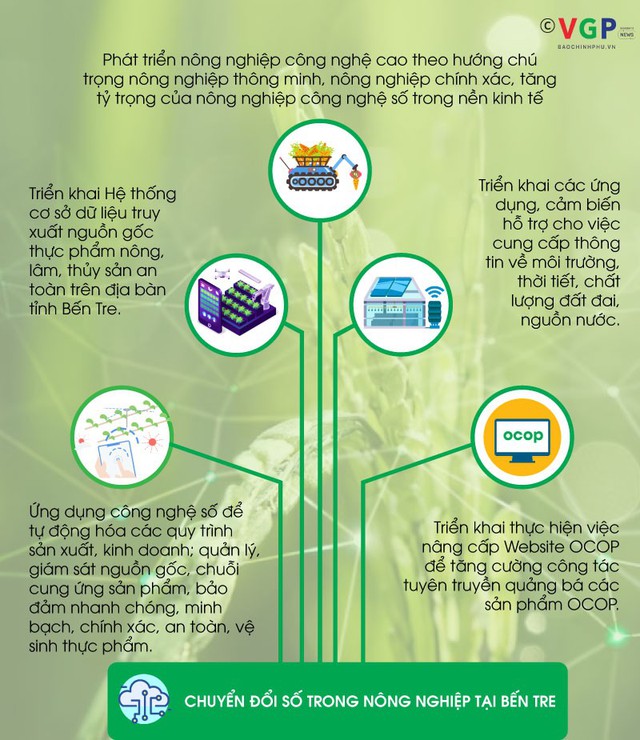 Digital transformation in agriculture in Ben Tre (Photo: VGP/Duong Tuan. Source: Government Newspaper) 
Current status of agriculture in Ben Tre province
Currently, in Ben Tre province, there are crops. Such as durian, coconut, rambutan, green-skinned pomelo, four-quarter mango, etc., are known by many people and have quite a good amount of consumption. 
However, the way to manage localities has not yet been synchronized. Along with many problems of planting zoning, quality of agricultural products, etc., there are still many inadequacies that have not been thoroughly handled. 
Completing the database of fruit growing areas in Ben Tre province on the Map4D platform
An agricultural problem is posed "a good season, a bad harvest" and how to synchronize the planting area and agricultural products? And to solve that problem, along with raising the reputation of local agricultural products, the Department of Science and Technology (Science and Technology) of Ben Tre province has cooperated with IOTLink Company to develop a project to manage the value chain of crops. main cultivation and product traceability. Thereby promoting commercialization.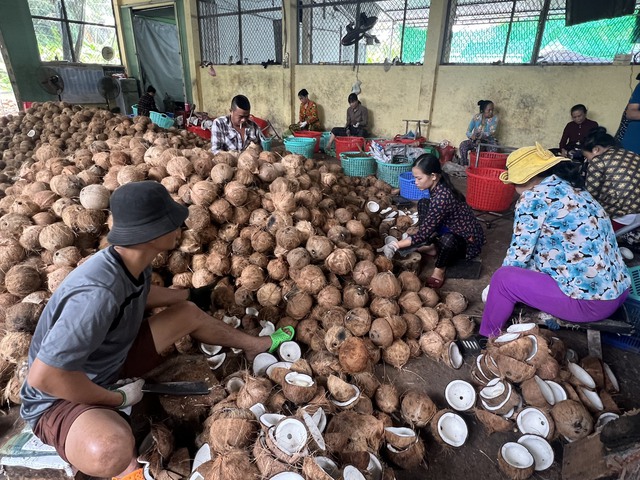 Collecting digitizing agricultural data. Easy management on Map4D . platform (Photo: VGP/ Hoang Trung. Source: Government Newspaper) 
With the goal of completing the database of fruit production areas in Ben Tre province. And build a digital map of the production area for each type of tree. As a basis for deploying, expanding and digitizing production areas and crops… 
Integrate and create synchronous databases.

 

Serving the state management of the agricultural sector.

 

Contribute to the implementation of the 4.0 revolution.

 

Implement the "digitization" project according to the Resolution of the Party Committee of Ben Tre province.

 
Towards IOTLink
To achieve the above long-term goal, IOTLink has built a geographical distribution system of key crops in Ben Tre province on the basis of Map4D digital map. Including trees such as: durian, four-quarter mango, rambutan, coconut, green-skinned pomelo... at 5 cooperatives/enterprises. 
On the side of the local government of Ben Tre province
There have been direct working sessions between the local authorities and the people. Collect crop information for each area. Specific information about: 
Planting time.

 

Medications used.

 
From the collected information will compare with the actual situation. From there, the efficiency of crops will be assessed according to each season. 
The cooperation between IOTLink and the local government of Ben Tre province
IOTLink and the Department of Science and Technology of Ben Tre province are implementing the first phase in a series of activities. Although it is the first step, the application of the Map4D map platform has brought about significant efficiency in information management and updating. 
The agricultural management software has been deployed to nearly 1000 farmers with the following contents: ID, household information about name, contact, planting area, crop, etc. at 5 cooperatives (htx) belonging to 4 the following districts: 
Cho Lach District: Vinh Binh and Hung Khanh Trung Commune B.

 

Chau Thanh district: Giao Long office.

 

Thanh Phu district: Thanh Phong office

 

Chau Hoa district: Giong Trom office

 
After successfully implementing the Project on value management of key crop groups and extracting origins for 5 groups of crops, Ben Tre province will expand the scale and types of agricultural products to ornamental plants and vegetables on a large scale. whole province. 
Deploying digital agricultural management software on the Map4D platform
On the agricultural side, Director of the Department of Agriculture and Rural Development Doan Van Danh said that, in order to develop the agricultural digital data platform, the industry will: 
Invest in upgrading information technology and digital infrastructure to serve the needs of college students in state agencies.

 

Forming a digital agricultural data platform to serve the management, direction and administration of departments, branches and localities.

 
Developing e-commerce, digital agricultural services.

 

Thoroughly exploit existing information and data.

 

Ensure the connection and sharing of data in compliance with the Vietnamese e-Government architectural framework and the provincial e-government architecture.

 
Ben Tre green-skinned pomelo has created a reputation in the market and is consumed stably (Photo: VGP/ Hoang Trung. Source: Government Newspaper) 
Organize and deploy digital agricultural management software
Management of geography, thematic maps on agriculture, water environment in cultivation and fisheries.

 

Management of pest and disease developments.

 

Supply chain management of inputs and outputs for the agricultural industry.

 

Management of the total herd of livestock (cattle, poultry, other livestock).

 
Production situation, ability to supply livestock products.

 

Vaccination rate and disease situation.

 

Production and trading of veterinary drugs - animal feed.

 

Slaughter control and quarantine in and out of the province.

 
Pilot installation of ground monitoring equipment to collect farming data. Building a network to monitor pest status on crops. Develop concentrated production areas with planting area codes. And combined with the deep processing industry, managed by the processing facility code. 
Deploying the construction of digital data platforms and implementing software systems: 
Food safety management and traceability of provincial agricultural, forestry and fishery products.

 

GIS map for monitoring and forecasting water environment in clam management in districts.

 

Veterinary livestock database management.

 

Manage, use and create agricultural digital map data to manage farming areas.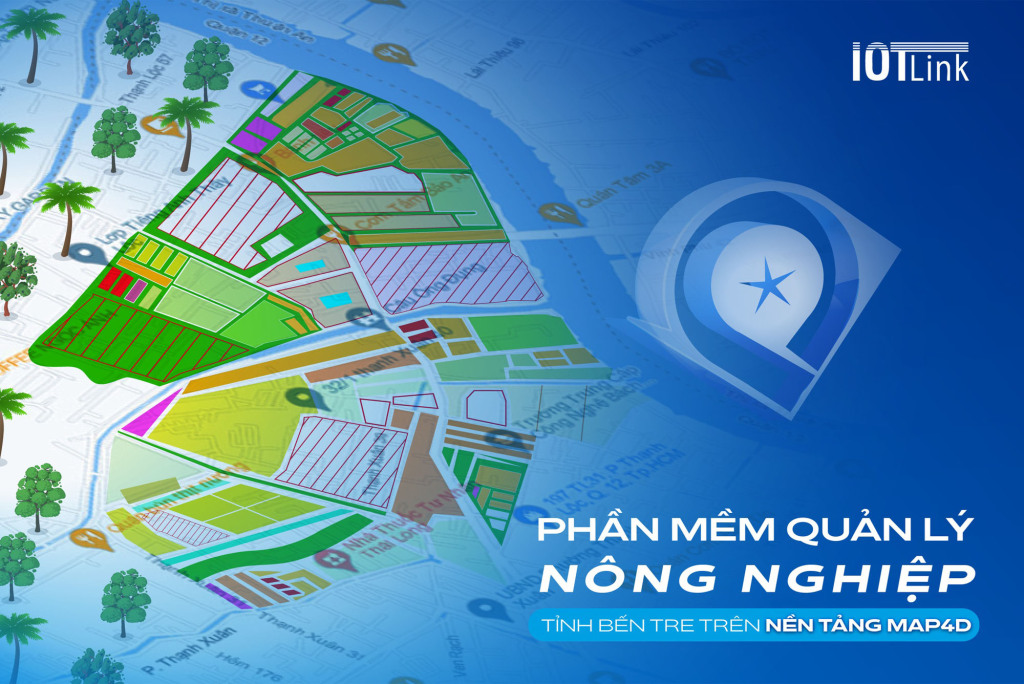 Results of the first phase of implementing digital agricultural management software
Ben Tre province has granted and maintained 28 planting areas with 59 codes with an area of 550.18 hectares on pomelo, rambutan, mango and durian.  
Green skin pomelo has 16 growing areas with 30 codes (area of 366.80 ha).

 

Mango has 5 growing areas with 17 codes (area of 52.38 ha).

 

Rambutan has 3 growing areas with 8 codes (area 32.05 ha).

 
Durian has 3 growing areas with 3 codes (area of 89.95 ha).

 

The label has a blank area with a code (area of 9 hectares).