EFFECTIVE DEVELOPMENT OF THE STORE SYSTEM WITH MAP4D
Digital maps are no longer a strange concept when increasingly asserting their role in the life and development of businesses. Especially issues related to location, location, area…
Development must be associated with effective management. Retail is no exception.
So how to develop the retail chain effectively, manage assets, goods as well as factors to promote products and services?
Map4D It is not only a map application but also a digital platform with many layers of data, easily integrating modern technologies to develop applications and software on demand.
In addition to the usual 2D maps, Map4D also simulates realistic 3D images in an intuitive and vivid way. In particular, users can also see the change of any object over time.
Map4D digital maps integrated with geographic information system (GIS) support businesses to develop and retail chain management system effective:
Make a market plan and choose the right selling point
Allocate goods properly according to the habits and consumption power of each region
Operate points of sale scientifically and economically
Effective marketing and promotion of products, services and brands
Detailed asset management by each point of sale, minimizing losses and wastage
Visualize your chain of stores
Put your business image on the digital map quickly. Drive revenue, increase conversion rate, increase brand awareness. Easier to reach customers.
Provide APIs: Direction, Autosuggest, Geocoding, Place search, etc.
Provide Map4D SDK, Map Service SDK.
Programming service to embed Map4D applications on Web or App on Mobile.
Built-in face recognition AI camera.
Chain CellphoneS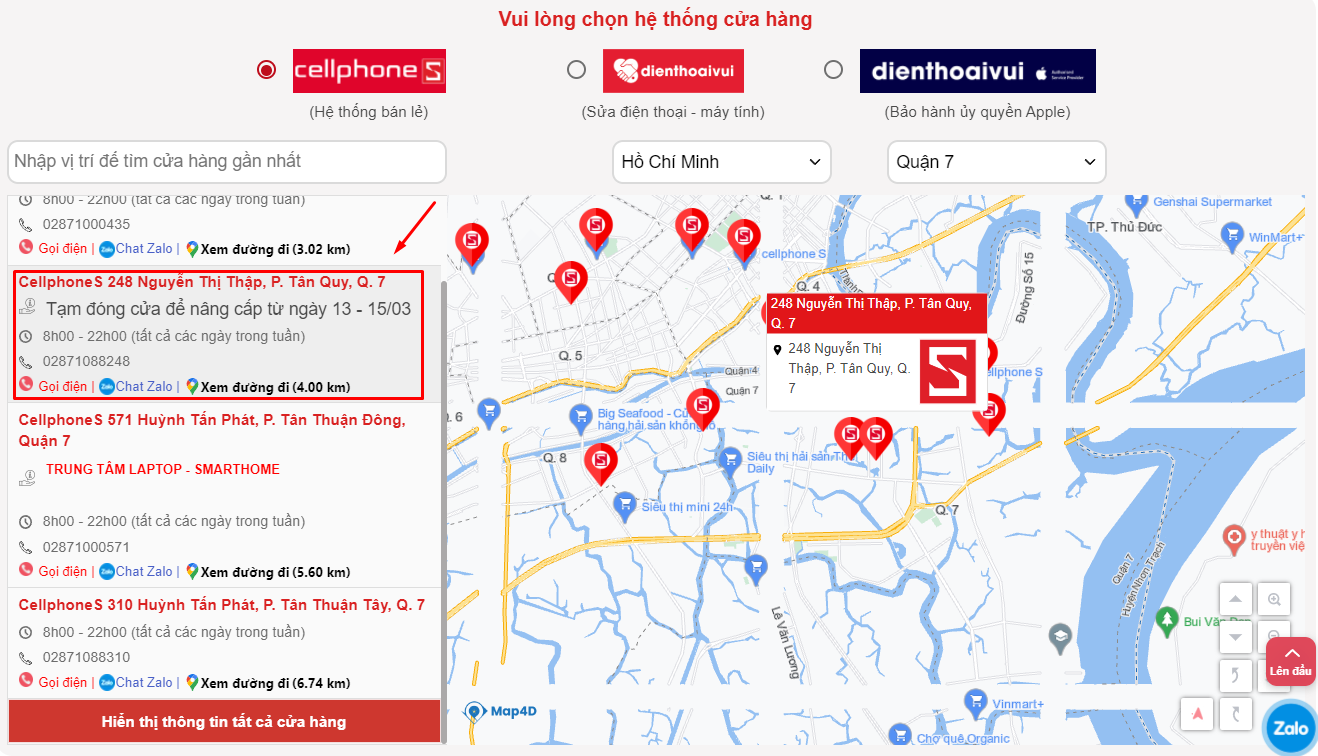 MAP4D
Visualize the Cellphone chain store system
Customer Experience - Revenue Quality
What CellphoneS says:

"After learning about the services and costs that Map4D provides, CellphoneS evaluates this as a unit that can well meet the company's current needs in terms of optimizing the store address page experience at a low cost. most reasonable cost.

Map4D map allows to load a full picture of CellphoneS's store system by area. At the same time, providing the way, the distance of any location to the store location to help users find the nearest store most convenient. At the same time, CellphoneS also has tools to distribute orders more efficiently."