MAP4D
SOLUTIONS TO INDUSTRIAL Cluster Management PROBLEM
Determine the exact location of each asset object. 

Connecting IOT technology to detect errors and fix them in time. 

Extract real-time reports, quickly and instantly. 

Visual images, easy to remember, easy to understand, easy to manage. 
Flexible authorization on many levels. 

Build asset class maps with homogeneous data. 

Easily share information between departments… 
>>> Enhance competitiveness through effective asset management of industrial clusters. 
Why is the management of industrial zones often difficult?
Data in the form of scan file / autocard file. 

There are no tools to manage and exploit data of industrial zones (Spatial and non-spatial data). 
There is no tool for disclosing industrial zone information to investors. 

There is no ready foundation for the future direction of the development plan of the industrial cluster. 
Integrating the Map4D digital mapping platform helps businesses improve production operations as well as effectively manage area assets such as trees, light systems, networks, electricity, water supply and drainage, houses. workshop…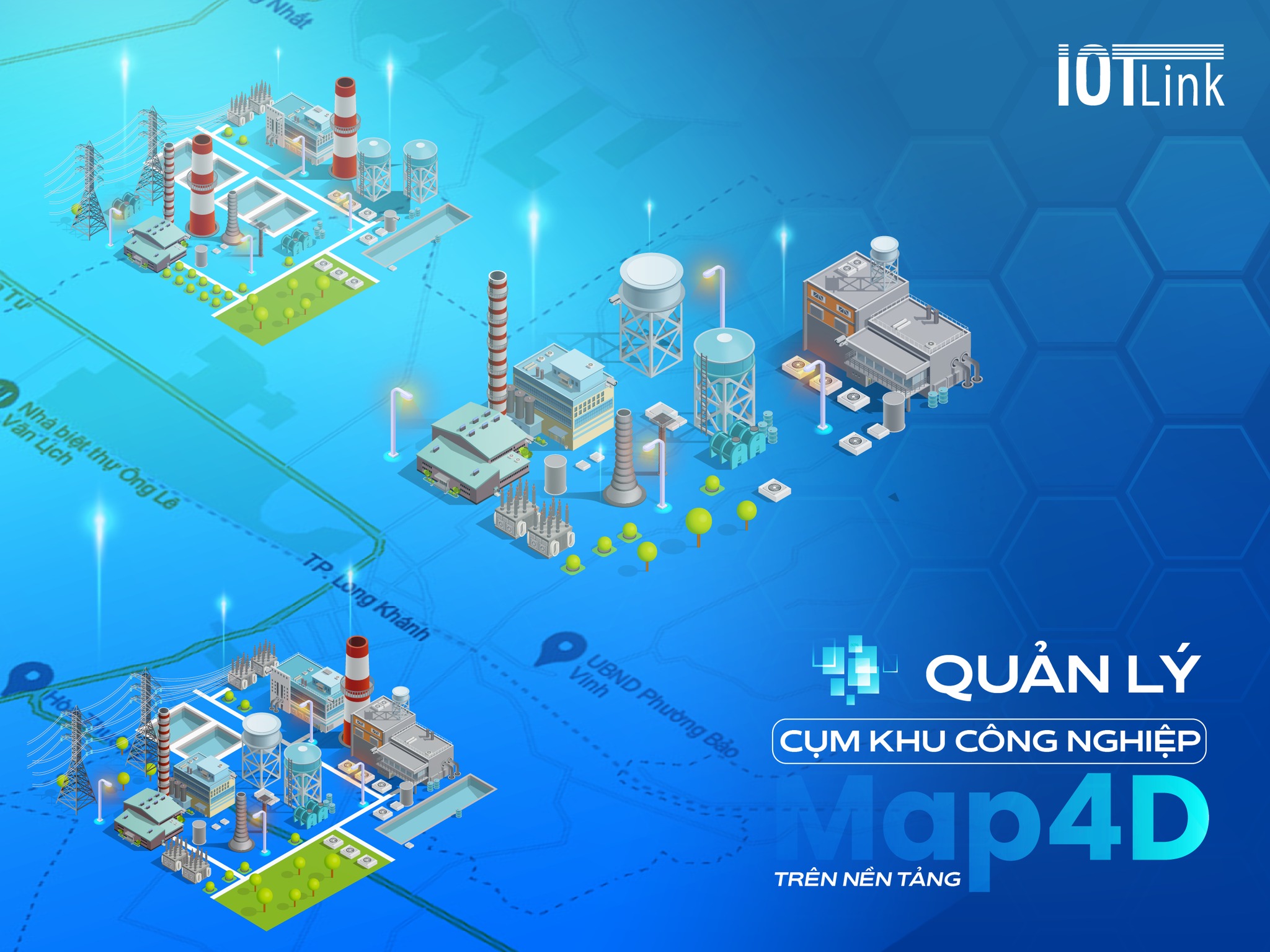 Sub-project
"Building 3D digital map of Song Cong II Industrial Park and infrastructure management software for industrial parks in Thai Nguyen province"
The solution Map4D brings 
Strongly exploiting 2D, 3D and 4D time data => increasing the competitiveness of Song Cong Industrial Park with other industrial zones in the area => increasing the ability to receive investment. 

Building industrial park management software is an AMS platform combined with GIS to serve the management, operation and exploitation of IPs easily. 
Software to publicize IP information on Map4D => support investors to easily access information of the IP and necessary information for the investment of factories in the IP (infrastructure, services, surrounding utilities; roads; transport; nearest warehouses, wharfs, etc.) 
The element of technology Map4D brings 
GIS technology and 3D maps support 4D time dimension in the management and operation of industrial zones. 

AMS application supports asset management and operation of the IP 

The ability to integrate IoT to build smart industrial zones 
Development orientation of industrial zone management in the future
Develop or integrate solutions to support indoor management. 

Developing solutions to support working and integrating BIM models into the system. 

Development of Map4D to enable 3D spatial analysis. 
Test system integration with Censor, Scada, camera, ... to be ready to link virtual space and reality. 
EFFICIENT INDUSTRIAL Cluster MANAGEMENT ON MAP4D
A STRONG STEP FOR A COMPETITIVE EDGE
Hotline for direct consultation Message consultation Leave contact information 
028 9999 6889 Chat now Send inquiry