Using digital maps of foreign companies means that the data and behavior of Vietnamese users will be in the hands of foreign companies.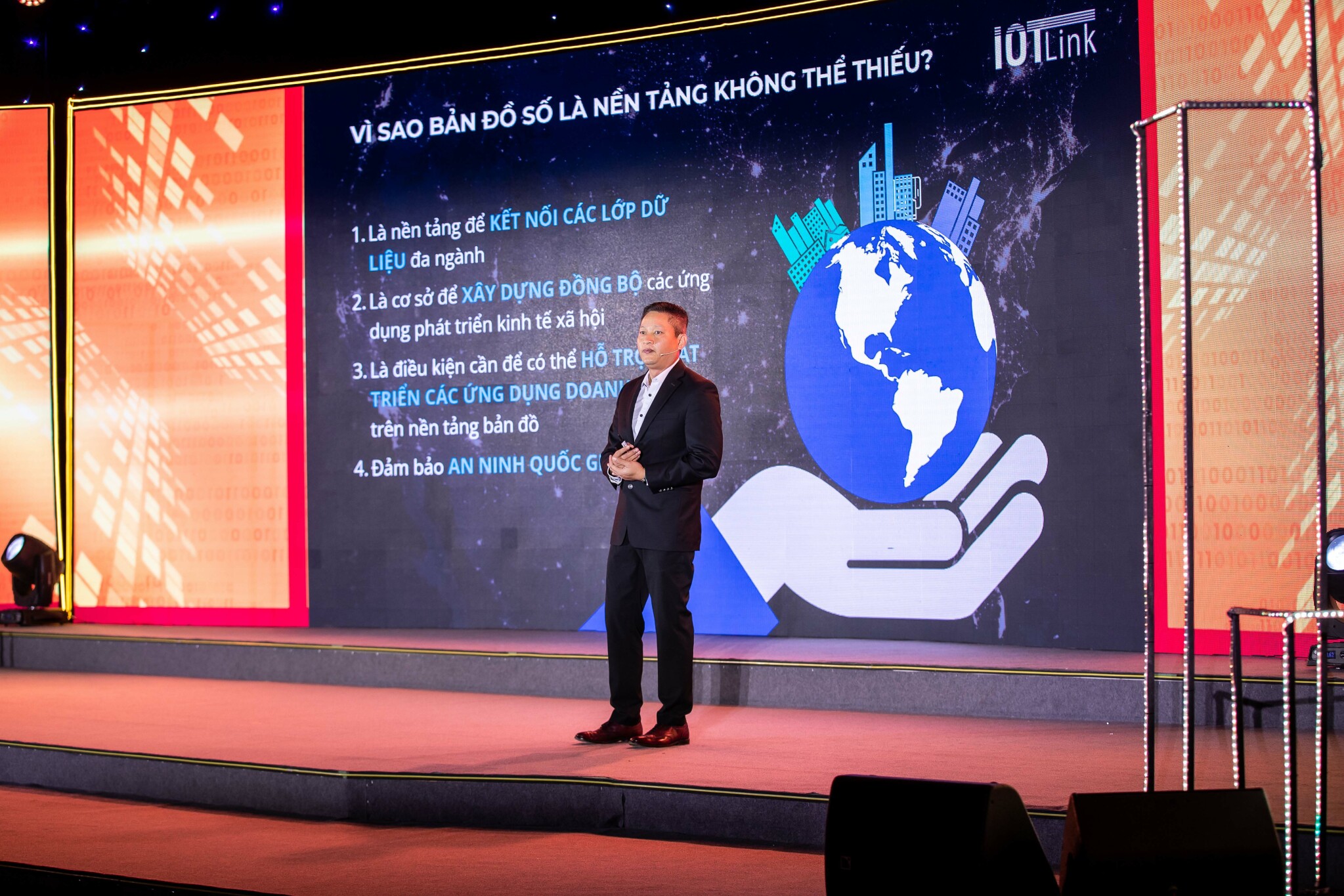 At the 3rd National Forum for Development of Digital Technology Enterprises on December 11th, there were many presentations from businesses building Make in Vietnam products and solutions. At the morning discussion session on December 11, Map4D products of IOTLink received a lot of attention from Vietnamese companies.
Share in this forum, Mr Vu Minh Tri, Vice President of IOTLink company mentioned the role of digital maps for each country. For example, technology ride-hailing platforms, E-logistics field, Hong Kong's digital transformation model with smart cities, Singapore's Covid-19 tracing application Trace Together ... have been successful in recent years. thanks to digital maps. So digital maps are 'the foundation of platforms when it comes to digital transformation.
Mr. Tri said that, at the national level, digital maps play a very important role. If using foreign digital mapping platforms, Vietnamese user behavior and data will be in the hands of transnational corporations.
Digital maps help link multidisciplinary data layers, build synchronization strategies, thereby creating an overall picture of data running in many different application layers, to solve social problems to ensure safety. national security. If we build using the Make in Vietnam digital version, the behavior and data of Vietnamese people will be guaranteed to be safe. In addition, Vietnamese digital maps have the ability to integrate many other technologies such as big data analysis, virtual reality technology, helping businesses create and promote digital transformation.
IOTLink uses open data, meets 60% data needed in the country map. The team constantly updates data with a large set of customers from the Government and businesses.
"If we use digital map services of foreign businesses, it will be difficult to integrate and update data because we are dependent on partners and data security. Only when the original map and the server are located in Vietnam will the security issue be guaranteed, while the server is located in a foreign country, the security will be low."Mr. Vu Minh Tri said.
Represent IOTLink said, map Map4D Some capabilities provide time-based map layers serving government, business, and community audiences. Currently, the Map4D application has made digital maps for Vietnam's Cultural Tourism Village, smart traffic management, real estate and smart cities.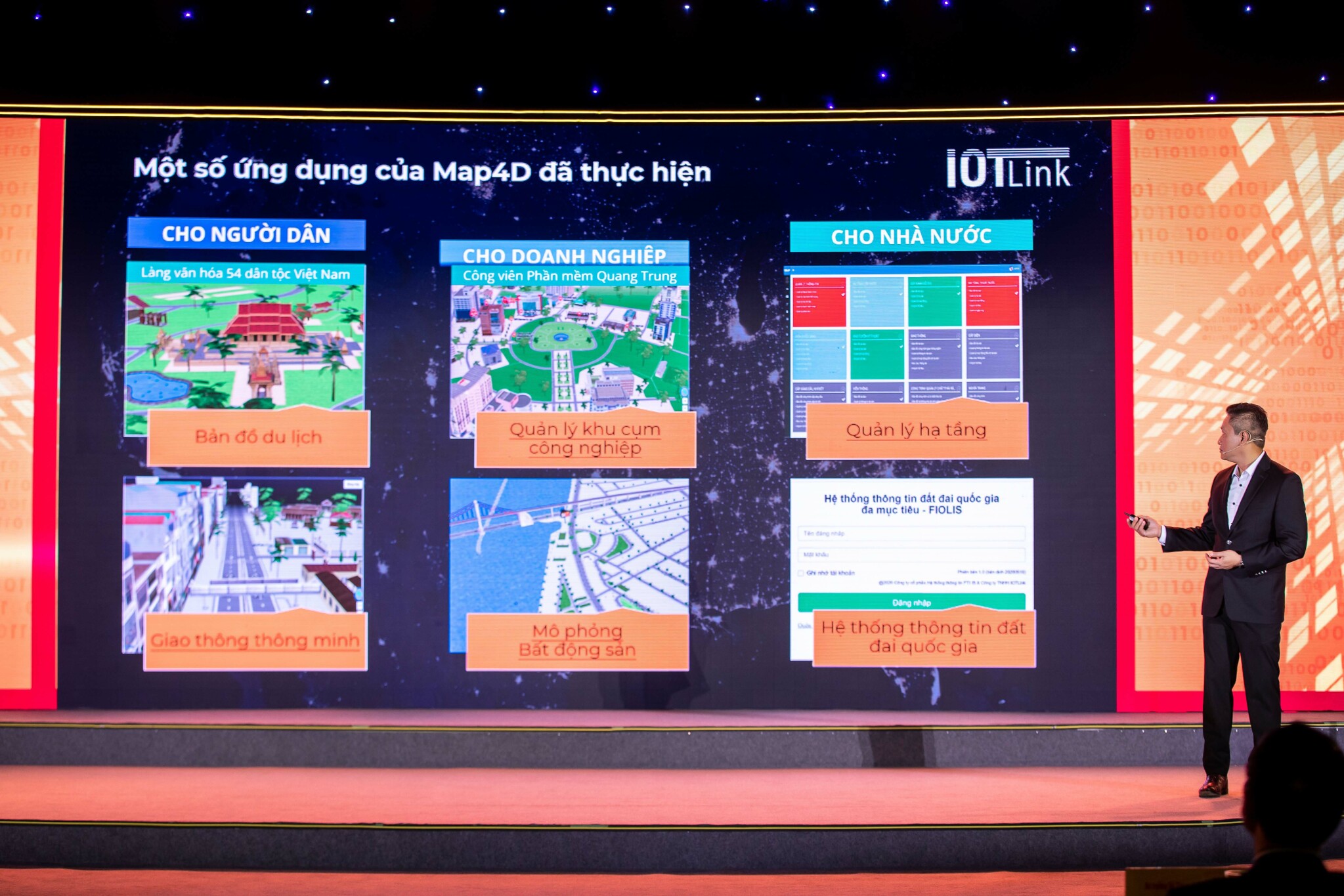 Answering a question from a representative of the real estate company MayLand about its ability to serve applications such as real estate in the context that Vietnamese businesses are having to use Google services, Mr. Tri said, In the real estate field, 4D digital maps will be strongly applied. Currently, IOTLink is cooperating with state agencies to update map data on IOTLink's map application to get map data. Thus, people can access land data to get information.
"The Vietnamese market is still a market that Google has not focused on in terms of maps. In the US, Google updates weekly, while Vietnam updates every 12 months. Therefore, in localities when there are roads in Xa Dan (Hanoi), or large projects are built such as sea reclamation works in Da Nang, it takes a long time to update Google. Whereas Map4D does this very well. We are ready to cooperate to open a platform for Vietnamese partners to share about this application.", Mr. Tri said.
Also at this forum, Vo Quang Lam, Deputy General Director of EVN Group shared the pain of not being able to apply digital maps. "We really want to put EVN's assets and services on the digital map, but using Google's services is very slow. Therefore, using Map4D was able to solve this problem for EVN. Having a digital map can better manage services for the electricity industry," said Mr. Vo Quang Lam.
Sharing at the National Digital Transformation Forum on the afternoon of December 11, Mr. Kurt Binh, CEO of Smartlog company, once again emphasized the role of digital maps. "Google doesn't care about the needs of logistics businesses like us. Meanwhile, digital maps have a very important role for logistics businesses. Make in Vietnam digital maps will help Vietnamese businesses in the context that foreign digital maps do not meet the needs of the Vietnamese market," said Mr. Kurt Binh.