4D technology is not too new. It is applied in many fields such as: printing, education, healthcare... Especially, among them is digital map. How is 4D applied in maps? What role does it play in human life as well as business activities?
4D . technology concept
4D technology is the new, more advanced step of 3D. 3D is a concept revolving around 3 dimensions: width, length, height (depth). 4D has a new dimension, the time dimension. In other words, 4D is three-dimensional space + time dimension.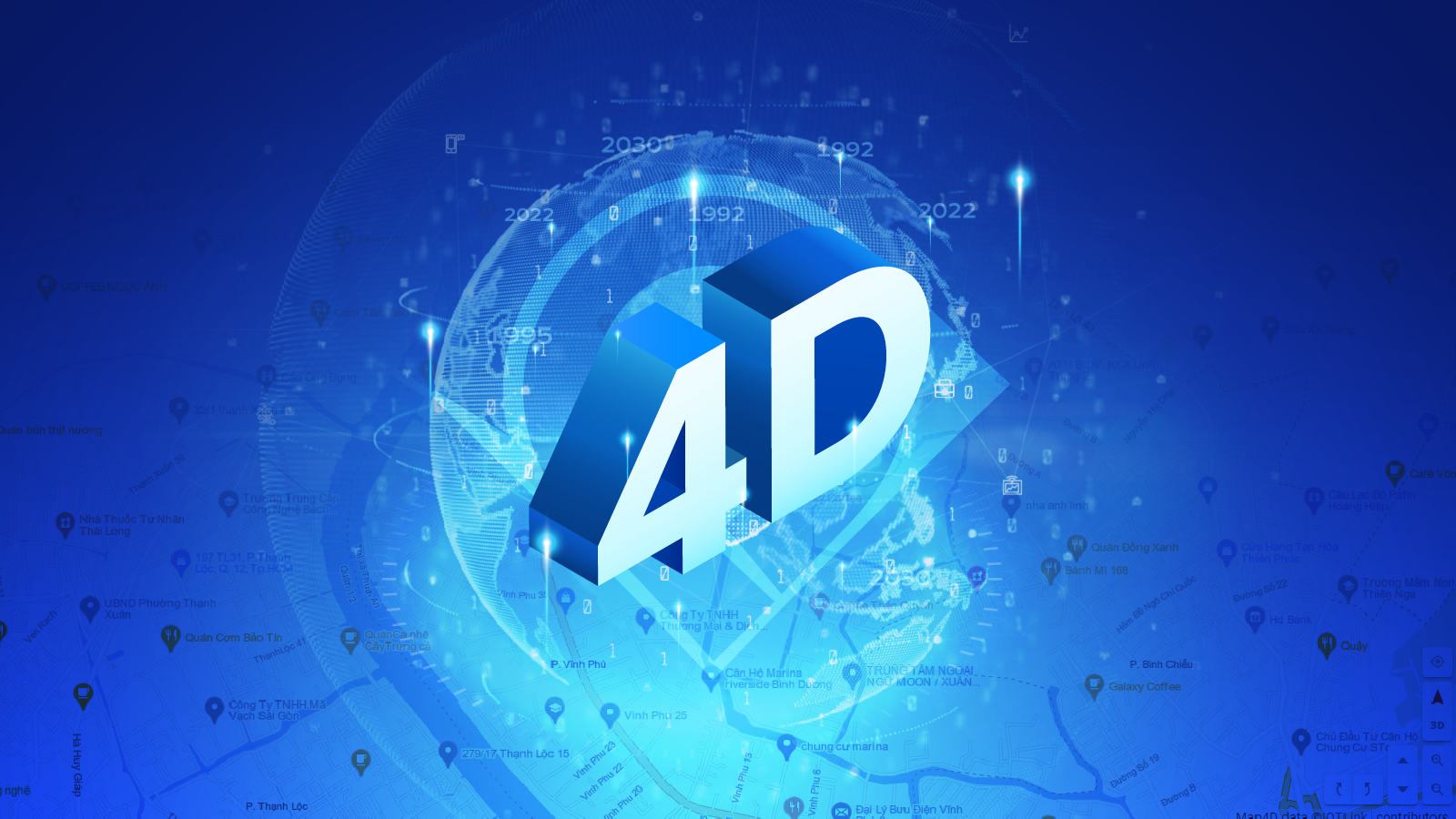 Technology contributes to changing lives in a more modern, smarter way
Although the concept of 4D has been mentioned since the 1970s in mathematics and physics. Okay, today, understanding of 4D is limited and something quite abstract. Some people even think that 4D is an illusion and has no geometric 4D existence.
In fact, 4D is applied in many fields, bringing practical values. Among them, the 2 most obvious and popular applications today are 4D printing technology and 4D digital maps.
Within the framework of this article, we will clarify the contents related to:
How is 4D technology integrated in digital maps?
The values and applications of Map4D in life as well as in business.
How is 4D technology applied in Map4D digital maps?
4D in digital map platform is exactly the representation of objects in 3D images on the map in time dimension. With this technology, users can see the change of a project, any area in the past, present and future.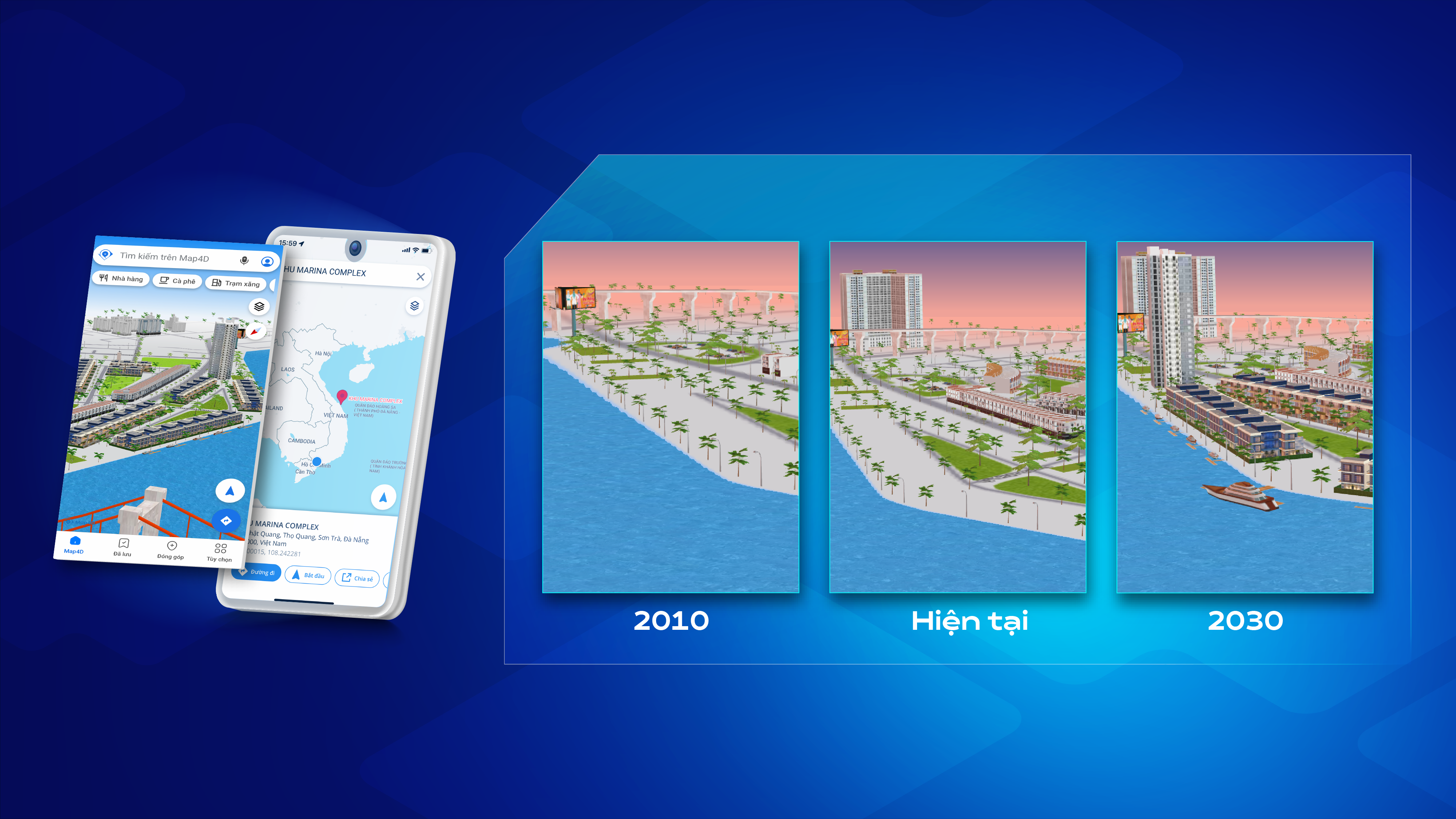 Example: User access Map4D . digital map and type the keyword Marina Complex. This is a real estate project located on the banks of the Han River (Da Nang). With the feature that allows you to choose the display time, Map4D provides a corresponding 3D visualization.
Map4D digital mapping platform helps real estate investors and businesses get an overview to details before making a decision. This helps investors avoid unfortunate risks when there is not enough information about the project.
How to view Map4D . digital maps
Steps to view the 4D version of the Map4D digital map
Visit the Map4D map page on the website or download the application on CH Play or IOS.
Step 1: In the search box, type the location/area/project you want to see
Step 2: Select 3D image view
Step 3: Select the display timeline
Map4D is widely applied in many fields
Since its publication (2017) Map4D has quickly made a mark in the hearts of users. The Map4D digital map platform contributes to supporting Government organizations, businesses and people to successfully change their numbers in.
Visualize chain stores, improve user experience
Integrated digital map platform Map4D Visit the store address page on the business website to help improve the user experience. This experience comes from visualizing the store system. This is the step that acts as a bridge, creating continuity in the user experience journey. Thereby helping to improve actual conversion rate, increase revenue, create a strong competitive advantage over competitors.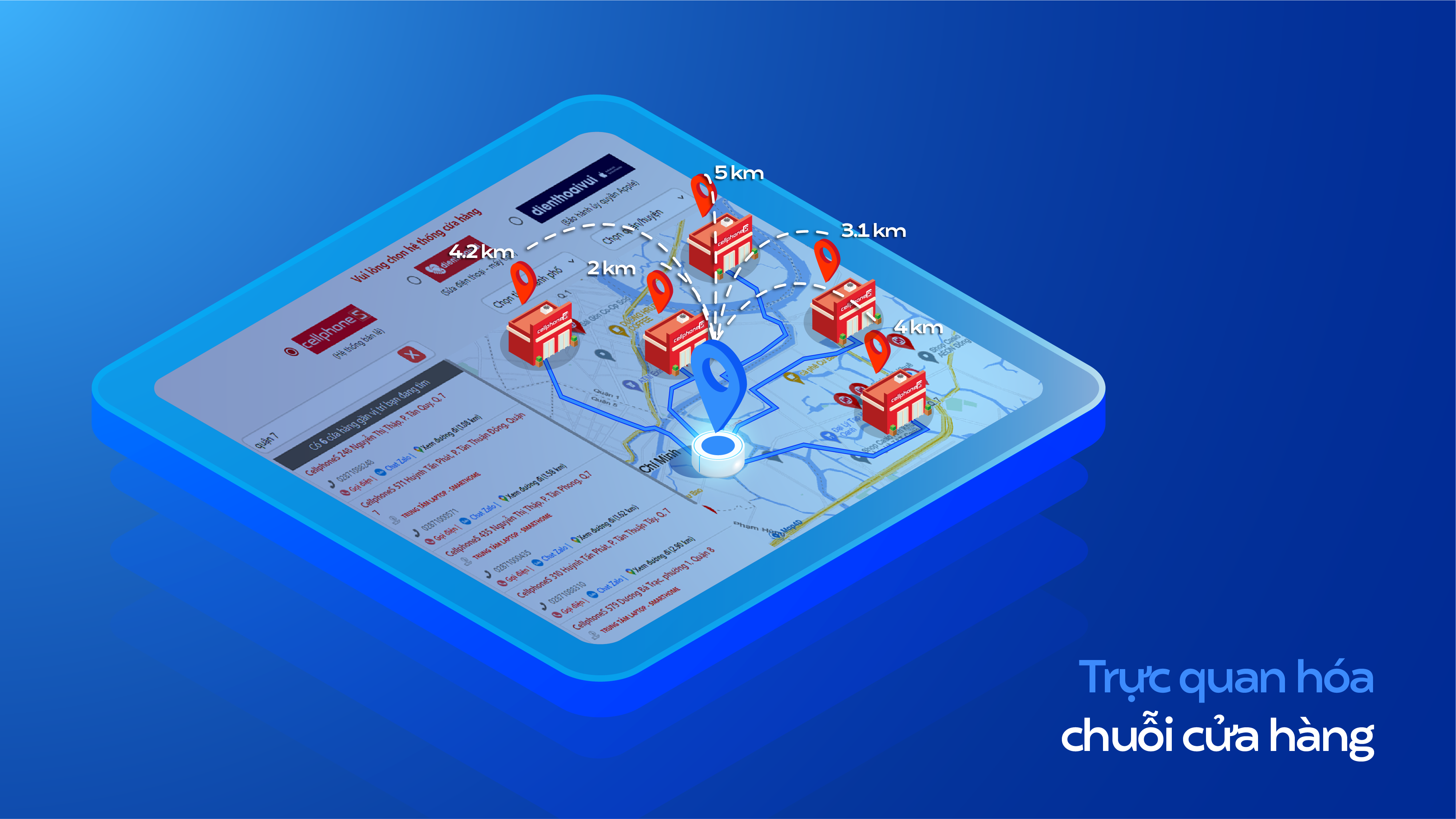 Suggested API to use to upgrade the store address page
Auto suggest: Help users find the correct address with smart suggestions
Distance matrix: Suggest the distance and travel time from the user's location to the surrounding shops
Route direction: Directions for users to quickly reach the selected store
Nearby search: Suggestions for nearby stores
Efficient freight forwarding routing planner
The effectiveness here is evaluated on 4 criteria: fast, efficient, easy management, customer experience upgrade.
With a useful database of addresses and roads, and a practical set of APIs/SDKs, Map4D is a tool to help businesses plan efficient delivery routes.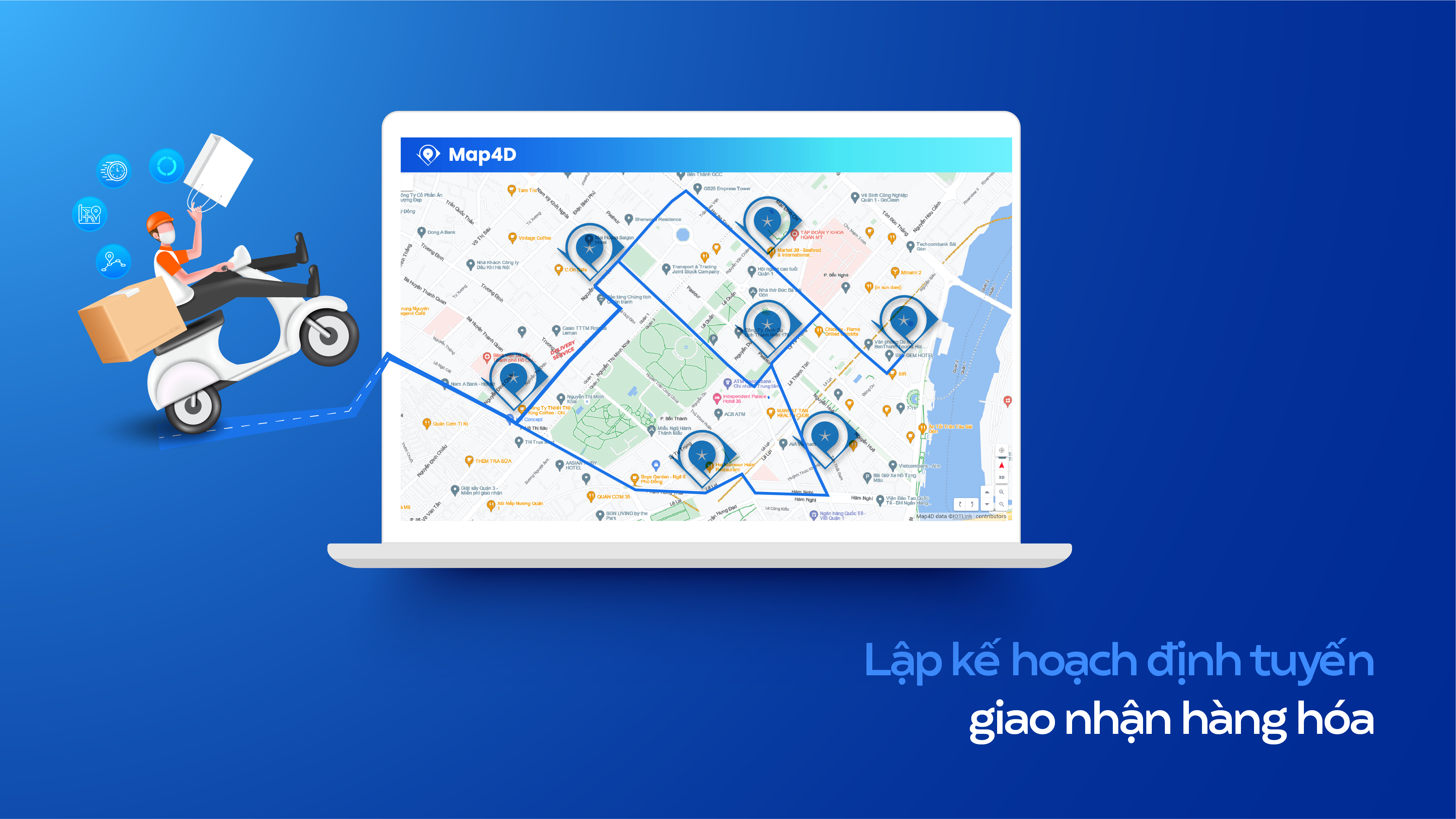 Suggested API for efficient delivery routing planning
Load map 2D, 3D: Map of address, route, boundary, island 2D, 3D
Distance matrix: Provides the time and distance for a matrix of many points
Route direction: Smart directions on the basis of balancing 2 criteria FASTEST and NEAREST
Place detail: Address details
Geocode: Convert address to coordinates and vice versa
Visit online real estate projects (real estate)
For real estate businesses, making an appointment to see a project is a matter of cost, time, etc. The purpose of the tour is to provide information to potential customers. From approaching customers to closing the project schedule, businesses often take a long time. The downside in this process is that customers are annoyed by calls from telesales staff.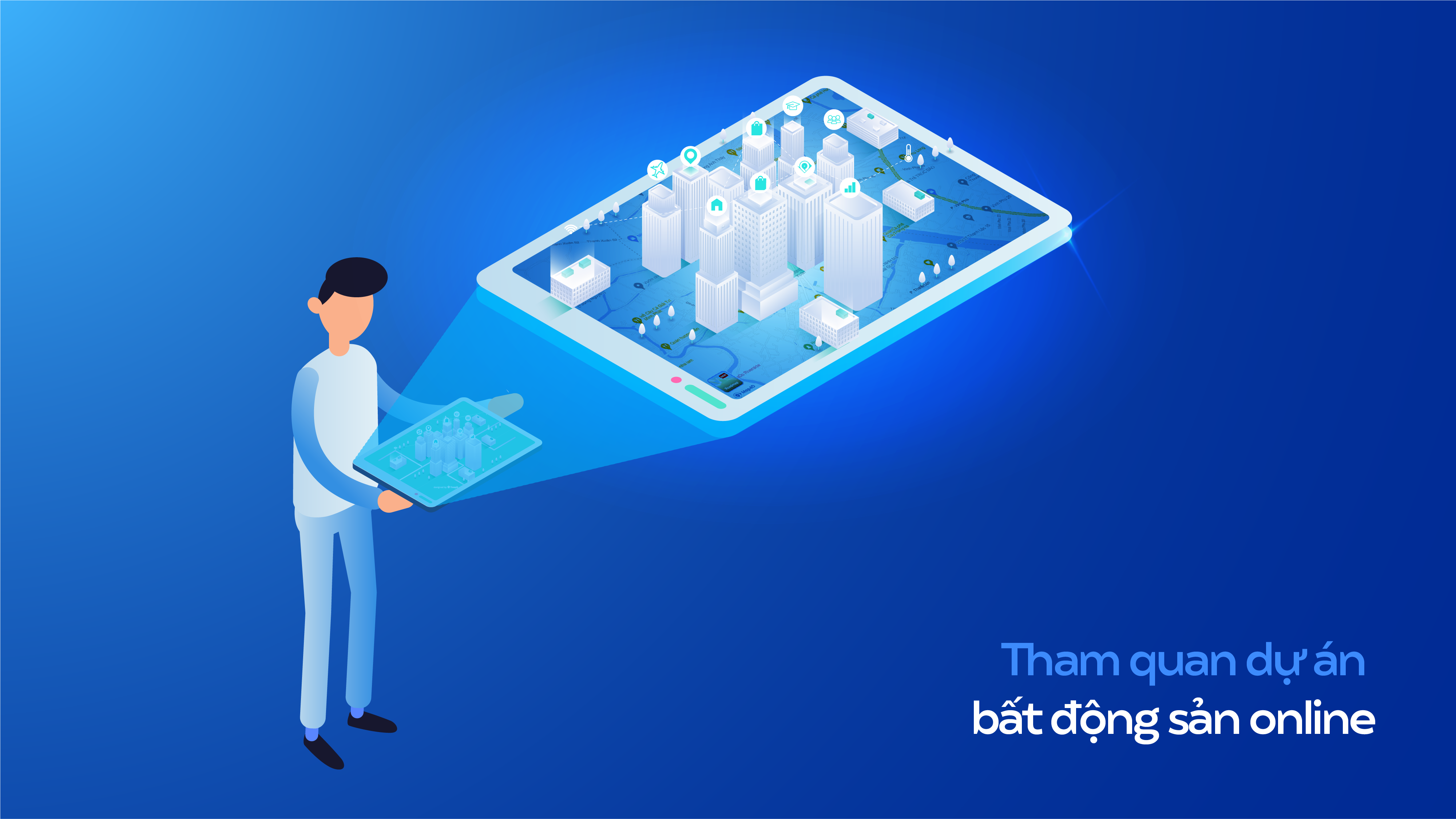 To solve this problem, businesses should create the initiative for customers. How? Recreate projects on Map4D digital maps. In this way, real estate businesses will receive the following benefits:
Create initiative for customers to find out information on their own
Save on personnel costs and unnecessary project visits
Provides a complete, accurate view
Visual 2D, 3D images, 4D technology reflect the changes of the project over time…
Direct interaction with objects: detailed information, VR360 tour, information sharing…
Hint API in real estate project visualization
Load map 2D, 3D: Map of address, route, boundary, 2D and 3D navigation to view projects accurately and intuitively
Route direction: Directions from this location to surrounding utilities
Nearby search: Suggest nearby utilities such as parks, schools, hospitals
Geocode: Search for an address by coordinates and vice versa
Place detail: Detailed information about the address is also the project the customer is visiting
Specialized maps for general use by departments, divisions and branches
Digital transformation is promoted in each government organization in order to successfully build a digital government, digital economy and digital society. All three pillars of the community are aimed at serving the people better.
Map4D provides a shared database for Departments, Departments, and Sectors on the basis of many data layers and the ability to integrate and link unlimitedly to ensure LGSP and NGSP data standards. In particular, Map4D allows decentralized installation at many levels: Country, province/city, software/application, department... All Map4D data systems are stored in the cloud and continuously updated. Japan.
In addition to the applications mentioned above, Map4D also makes a great contribution to the digital transformation of many other fields such as tourism, education, electricity infrastructure management, green tree map, water supply and drainage map, etc.
Conclusion
In an era of increasingly depleted resources, taking advantage of unlimited technological resources to improve labor productivity and save costs is a sustainable direction. In particular, 4D is a technology with a lot of potential and needs to be explored with its true value. Accelerating the development and use of applications from 4D technology will contribute to promoting world technology to a new level.